Dare you stream deadly doubles on wedotv this October?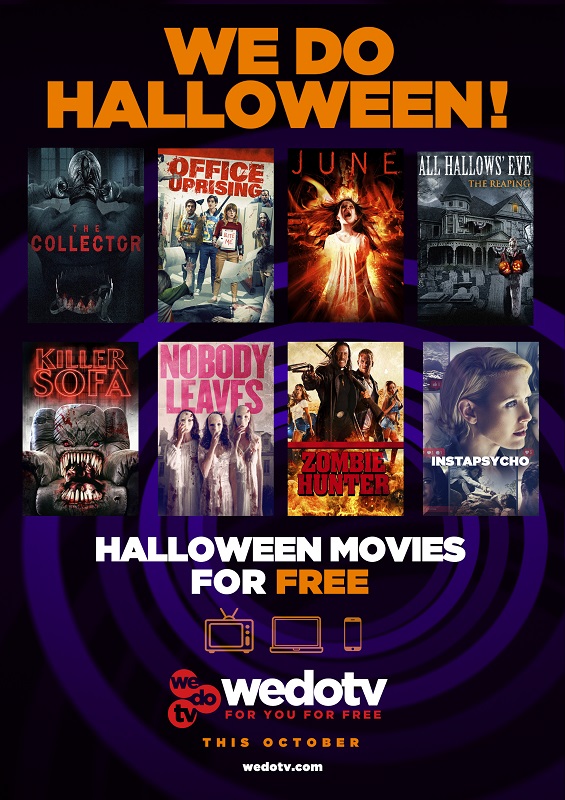 Finally, October is here and we can all look forward to longer nights and shorter days meaning we can settle down and enjoy screaming, oops meant streaming the best horror movies around for free. Here's a quick look at some of the treats we have for you.
Let's start with Kaw which makes The Birds look like a trip to pet store. The raven has a body that is twenty inches long with a three foot wing span and razor sharp beak and talons. When these birds begin to attack humans in a small town, there is no where to hide. There is very little time to figure out why this is happening, and ravens learn quickly. Don't look up!! Continuing with the animals gine wild theme, Black Sheep takes a stab at man's constant journey to better nature. An experiment in genetic engineering turns harmless sheep into blood thirsty killers that terrorise a sprawling New Zealand farm.
If Euro horror is your thing then Blind is the movie for you. Faye (Sarah French), a former actress who lost her vision due to botched laser eye surgery, struggles to put her life back together while living alone in her dream house in the Hollywood Hills. Supported by her friend, Sophia, she starts opening up to Luke, a personal trainer who is mute and can communicate only through his cell phone. When a masked stranger named Pretty Boy shows up, Faye will realise that she isn't as alone as she thinks. Set in the autumn of 2016 The Unfolding sees the planet fearful and standind on the brink of nuclear catastrophe. A young researcher in psychical events, together with his girlfriend, travel to the legendary wilds of Dartmoor, England, to investigate a rambling, centuries old building. They find themselves drawn into a murder mystery from the past, a mortal confrontation with pure evil, and a fight for their very survival.
Paranormal chills await in Dark Encounters and is an eerie supernatural thriller which will get under your skin. After the mysterious disappearance of their daughter, grieving Olivia (Laura Fraser: Breaking Bad) and Ray (Mel Raido: Legend) notice strange lights near their home. This weird phenomena will eventually lead them to a dark and disturbing truth. Also starring Alice Lowe and Grant Masters. We visit a very different place in The Rig which is set in the midst of a tropical storm, where the crew of an offshore oil rig must survive the rampage of a creature after invading its undersea habitat.
Things get a bit devilish with the chiller Demonic. A group of teenage ghost hunters travel to a supposedly haunted house in an attempt to summon spirits from the dead. After performing a Seance, something goes drastically wrong and they are violently killed over the course of the night. A police officer and a psychologist are brought in to question the survivor to discover what happened to them during that horrific evening. Demonic drama continues with Infernal where a happy young couple welcomes their first child shortly after getting married. Their joy quickly turns to fear when the girl starts acting strangely and unexplained phenomena start happening around the house.
Want to take a trip to a truly spooky place? Yes? Well we have just the thing for you with Eloise. Four friends break into an abandoned insane asylum in search of a death certificate which will grant one of them a large inheritance. However, finding it soon becomes the least of their worries in a place haunted by dark memories. Another lady with a dark sercret is Anna. When young and successful reporter Jamie finds out that her sister has died in mysterious circumstances, she travels to Singapore to uncover the truth. There, she discovers multiple deaths linked to her sister's and must join forces with her sister's husband in order to defeat a demonic entity that is using new technology to complete an ancient mission.
A family of five moves into a beautiful, sprawling dream home in Haunt, sounds lovely but things aren;t what they seem. The only problem is - it's cursed, having caused the deaths of the previous family who occupied it. The family's moody 18-year-old son and his mysterious new neighbour inadvertently awaken something in the house. The Haunting of Molly Hartley takes a look at young adulthood with a paranormal twist. Being new at school is hard enough, but for Molly Hartley things are much more complicated. Something evil lurks just beneath the lush surfaces of her new private school world and it holds the rights to her very soul. Now, on the eve of her 18th birthday, Molly Hartley is about to discover the truth of just who, or rather what, it is she is destined to become.
Little creature deliver big scares too! Infestation focuses on perennial slacker, Cooper Flynn, who finds himself waking up bound in cobwebs and cocooned in the wall of his workplace. After realizing that the world has been taken over by giant alien insects, he rouses a ragtag group of strangers and together they must fight for survival. If that wasn't enought then Giant Killer Ants will do it. A 1989 'one-hit-wonder' glam-metal band embark on a trip to the No-chella rock festival in the hopes for a comeback. But a carefree psychedelic pit stop results in them facing an army of flesh-eating ants that keep increasing in size.