Watch with Pride - Pride Month on wedotv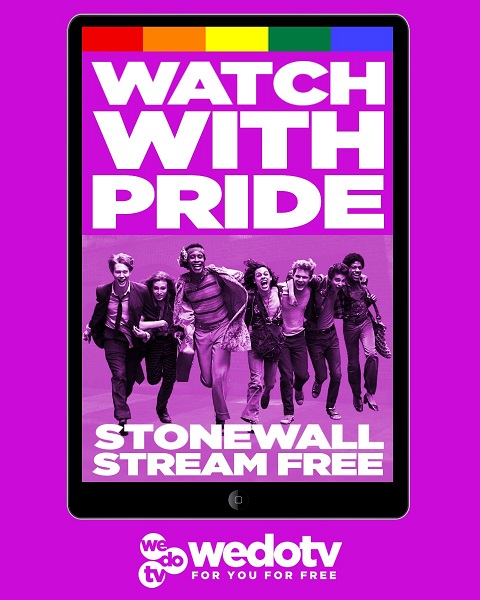 Celebrate a month of acceptance and love with wedotv as we bring you a free-to-view season of movies dedicated to bringing change and Pride:
We begin with a movie which charts one of the most important times in the gay community and its strugge for acceptance, Stonewall. Inspired by the incredible true story of the unsung heroes whose courage broke down walls. A young man's political awakening and coming of age during the days and weeks leading up to the Stonewall Riots. 
We then go further back in time with Stephen Fry, Jude Law, and Vanessa Redgrave in Wilde. This Golden Globe nominated historical drama examins the turbulent life of renowned, larger than life poet, Oscar Wilde. An accurate insight in to the life of the great Irish literary depicting the turmoil in the poet playwright's life after he discovers his homosexuality.
A drama with real heart is also lined-up for you to enjoy for free, Amber Goldfarb, Zena Daruwalla, Pierre-Yves Cardinal, Gordon Warnecke, Debargo Sanyal, and Jamie Mayers star in Venus. A family comedy about a transitioning woman who discovers that she's the father of a 14 year old boy.
Anything is a heart-warming film about the power of love and acceptance. Grief-stricken over the recent death of his wife, Early Landry moves from Mississippi to Los Angeles in the hope of starting a new life. He quickly finds himself in an intense friendship with his transgender neighbour, Freda. However, the simplicity of their shared loneliness and growing affection must be reconciled with the complexity of their disparate backgrounds.
We also have a celebrated period drama which stars Molly Shannon, Susan Ziegler, and Amy Seimetz, Wild Nights With Emily. This charming and romantic comedy follows Emily Dickinson's life, in particular, her relationship with another woman.