Dragon Blade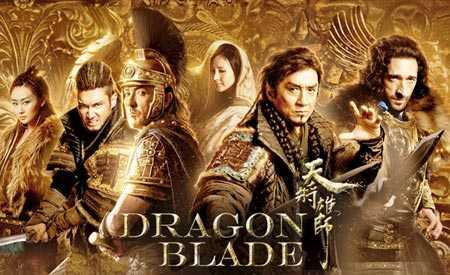 An epic action-adventure with a Hollywood A-list cast and grandiose production made "Dragon Blade" an instant hit in China. Jackie Chan and John Cusack reinvent history in an exciting, action-packed historic spectacle released in 2015.
The cast of the film includes Jackie Chan (Huo An), John Cusack (Lucius), Adrien Brody (Tiberius), Si Won Choi (Yin Po), Peng Lin (Cold Moon), and Mika Wang (Xiu Quing). It was written and directed by Daniel Lee.
The film is set in China during the reign of the Han Dynasty. The plot revolves around Huo An (Jackie Chan), the Emperor's special squad leader assigned to protect the Silk Road and keep the peace between the 36 tribes living in west China. But, unfortunately, not all members of the squad are guided with high ideals of peace and unity. After being framed and accused of smuggling, the entire group is sentenced to hard labor. They end up in a remote outpost of the Empire, a ruined fortress called Wild Goose Gate.
One day a wandering Roman legion besieges the fort. The fort's guards decide that Huo is their best option for defense and let him organize the defense tactic. The battle between the Roman legion and the Chinese warriors stops even before it begins due to the massive sand storm. Still guided by his squad code Huo An decides to open the fortress's gates and offers sanctuary to General Lucius (John Cusack) and his troupes.
Once the storm was over, the Roman legion helped the locals rebuild their fort. But, unfortunately, the peace at the Wild Goose Gate is interrupted by the arrival of the giant Roman army led by corrupt Tiberius (Adrien Broady). So Huo, Lucius, and their men have to work together to defeat the enemy. And just when they thought that they are being outnumbered, the united tribes from the Silk road arrive to help them.
"Committed performances, a hefty budget, and assured hands behind the camera ensure that Dragon Blade delivers on its promise of sprawling battle scenes, intriguing culture clashes, and budding bromances, where its giddily high concept and unlikely casting may so easily have seen it fail. Nevertheless, Hong Kong writer-director Daniel Lee (14 Blades, White Vengeance) never quite achieves the epic grandeur for which he so clearly strives." – Screen Daily
This Chinese-American coproduction gave us historical action film which can be compared to similar Hollywood blockbusters. The film lacks fine historical details, and on occasion, the story loses its rhythm. However, you are still getting an action-packed and entertaining blockbuster just like all Jackie Chan films.