The Witches of Oz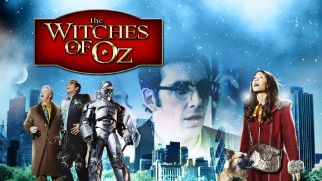 A contemporary spin on timeless children's classic "The Wizard of Oz" finds Dorothy on her way to New York looking for a better future. By accident, she discovers that the world her father was writing about is real.
Dorothy Gale is leading a peaceful life in a small town in Kansas. She is writing series of successful children's books based on the magical world her father Frank invented, Oz. A large agency from New York sends her a tempting offer, so she decides to go to the city. And just like that, Dorothy wasn't in Kansas anymore. 
By accident, Dorothy discovered that the world she always considered imaginary might be real. She learns that the books she wrote are based on repressed memories from her childhood. When she discovers that her friend and agent Billie Westbrook is the Wicked Witch of the West, the clock to save humanity starts ticking. Dorothy tries to find inner-courage and joins forces with earth-based forms of Scarecrow, Tin Man, and the Lion to prevent the evil plot from coming true. On her way to recover the magical book that could give the Wicked Witch unlimited power, the friends will encounter many magical beings from the land of Oz stuck in their earthly forms.
This modern spin of a classic tale was received with mixed reviews. "The Witches of Oz" was released as a film before the producers decided to release the extended version in the mini-series form. As most series that aired on the Syfy Channel in the 2010s, "The Witches of Oz" lacked good CGI effects, which was the main reason for not-so-great reception. The critics were generally kind to the film. Bob Fischbach of the Omaha World-Herald wrote "Is "Dorothy and the Witches of Oz" just a little bit cheezy? I'm thinking yes, but that doesn't mean families can't enjoy it as an escapist way to spend a couple of digitally enhanced hours of flying monkeys and magical powers."
If you enjoyed "Once Upon a Time," this series might come as good entertainment. Maybe the special effects are not as polished, and the acting is not top-notch, but this mini-series is made to be enjoyed like a guilty cheezy pleasure.